Strategic Goals
We act as a catalyst for systemic change, encouraging partnerships and bringing together leaders for change.
Strategic goal 1: Culture
Modern Slavery is bad business (no slavery in supply chains)
The Santa Marta Group will work to encourage governments and businesses to act proactively to prevent human trafficking and modern slavery in their purchasing, selling, procurement and all elements of their business and financial activities.
To do this, the Santa Marta Group will :
Work with G20 Governments in implementing commitments made in the G20 Leaders Declaration.
Establish a network of business leaders and international law firms to create ethical leadership as the norm who implement measures for victims to secure remedy, including compensation.
Work with partners (including the EU, the UN, ILO and other multilateral bodies) to influence the most effective models to provide workers with proper pay, rights and equality at work. Informing communities of the measures required of governments and businesses—encouraging them to act as a catalyst for change locally.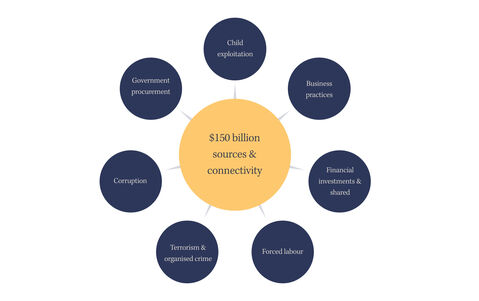 Strategic goal 2: Tainted money
No one to profit from human trafficking and modern slavery
The Santa Marta Group wants to see profits from human trafficking and modern slavery seized and used to provide victims with reparation and compensation. Identifying the profits from large businesses or those in direct receipt of profit from exploitation, even unknowingly, is essential to make this crime unattractive and one that does not pay.
To do this the Santa Marta Group will:
Work with governments and businesses to build a consensus for ' No Tainted Money.'
Encourage communities to influence local leaders to ensure there is 'No Tainted Money.'
Influence the G20, EU, OECD, World Bank and other multi-lateral bodies to adopt and promote this 'No Tainted Money' principle.
Strategic goal 3: The internet to be governed by law
Responsible technology that upholds human dignity
Digital technology can provide solutions to human trafficking. However, criminals work fast to exploit opportunities to make money and create methods that outwit the authorities.
Digital technology is used by traffickers to recruit, advertise services, transfer profits and sell online exploitation. Currently, police forces, charities and oversight bodies try to disrupt or monitor online criminality. With the vast amount of criminal transactions online, the authorities are limited by resources, capacity and expertise.
As police struggle to respond to online criminality including human trafficking, providers of internet and technology services must take up their responsibilities. The introduction of apps for parents, or programmes for schools is not sufficient. Safety should be built into devices, not an added extra in the form of an app. Voluntary codes or commitments will not be sufficient to prevent the internet from being used as an instrument to aid, abet and procure crimes of human trafficking and modern slavery.
The digital space should be governed by rules and regulations we expect in all public spaces. In the digital space, tech companies must be held responsible for safety and governance.
The Santa Marta Group will:
Encourage the G20 to introduce a commitment in the Leaders Declaration to legislate for an internet free from enablers of human trafficking and modern slavery.
Work with the EU and member states to sensitise legislators of the extent of this criminal enterprise.
Work with ethical leaders from the technology sector to negotiate change within the industry.
Identify and commission applied rigorous analysis to examine the extent of human trafficking on the internet, its causes and its value to the traffickers' business model.
Help communities to become more aware of the use of technology as an enabler of human trafficking and modern slavery.
Strategic goal 4: International instruments
Relevant for today's world and enforced
Internationally, ending human trafficking and slavery has been a commitment for many decades. This includes the League of Nations 1926 Convention to End Slavery, reinforced by Article Four of the Universal Declaration and the European Conventions of Human Rights.
The Palermo Protocol, EU Directive, Council of Europe Convention, ILO Convention on Forced Labour, agreements at the UN and the G20 alongside domestic legislation in over 170 UN member states, has been agreed. These legal instruments, conventions and agreements offer the framework to end human trafficking and modern slavery, while identifying and supporting those who are exploited. And yet this abhorrent crime continues. Countries must take up their responsibilities, implement their laws and citizens should insist governments abide by their declared agreements. Instruments need to be revitalised and implemented to suppress and eradicate this crime against humanity.
To do this the Santa Marta Group will:
Promote the protocols, conventions and frameworks designed to stop human trafficking and modern slavery, or that are intended to respond to those who are trafficked.
Work in partnership to inform communities of the commitments that have been agreed in their name at international, national and local level, encouraging that they demand accountability of local leaders.
Produce and disseminate role-appropriate training materials for police, local government, civil society and faith groups.
Strategic goal 5: The role of international bodies
Promoting human dignity
Whilst there are many international commitments, these need to be implemented.
The International Criminal Court, the European Court of Human Rights (ECfHR), United Nations Office for the Coordination of Humanitarian Affairs (OHCA), World Health Organization and UN Peacekeeping are all agencies which could play a more active role in preventing or responding to human trafficking and modern slavery. In addition, OCHA and UN Peacekeepers are likely to encounter human trafficking and modern slavery in some of the most vulnerable and fragile situations and are well-placed to respond.
To do this SMG will:
Work with partners at the UN in New York and Geneva to influence inclusion of human trafficking and modern slavery in humanitarian and peacekeeping deployments.
Encourage OCHA and donors of the importance of integrating human trafficking and modern slavery awareness and responses into humanitarian crises. This should include ways to share intelligence and how to provide support to potential victims.
Establish a relationship with the judiciary at the ECfHR and the ICC to encourage greater understanding and interest in allocating resources and priority to cases of human trafficking and modern slavery.
Evidence has shown that a large percentage of victims of human trafficking and modern slavery have sought medical assistance either whilst trafficked or when they escape. We will engage with the healthcare sector and professional bodies who can play a major role in prevention, identification and intelligence gathering.
Strategic goal 6: Moral compass
Resetting the Global position – protecting the person
Societal, business and government leadership plays a pivotal role in shaping opinions and how institutions prioritise and perform their duties.
While policies and strategies set the roadmap, it is often the way leaders communicate and prioritise what is important that sets attitudes and cultures. The Santa Marta Group will focus on attitudes and cultures that promote human dignity and protect the most vulnerable and challenge approaches that marginalise or create environments where exploitation thrives (In the words of Pope Francis we must challenge the culture of indifference). Setting the moral compass to respect, dignity and humility will require a great deal of self-examination, honesty and transparency.
To do this Santa Marta Group will:
Establish a group of leaders who believe in ethical and transparent leadership and are committed to driving and substantive change in their own institutions as well as broader international organisations (eg G20, EU, and UN).
Encourage 'Exemplo Ducamus' - Leadership By Example.