Focus on Serving UK's Diaspora Communities at Human Trafficking Conference in London
Romanian Consulate in London and Santa Marta Group Conference October 20 "Diplomacy, Faith, and International Cooperation on Human Trafficking: Forging Partnerships in the UK and Beyond"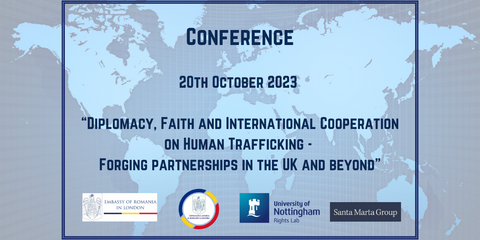 Diplomats, police, faith groups and statutory authorities are gathering today in London to start a process aimed at better protecting the UK's diaspora communities from the scourge of human trafficking.
The conference, hosted by leading law firm Hogan Lovells, is a joint initiative by the Romanian Consulate in London and the Santa Marta Group. Speakers include Cardinal Nichols, president of the Santa Marta Group; Romanian Ambassador Laura Popescu; Sir Iain Livingstone, former chief constable of police in Scotland; Amanda Read, Border Force national operational lead – safeguarding and modern slavery; Stephen Ryan, minister counsellor, EU delegation to the UK – citizens, social, justice and home affairs; Mateusz Stąsiek, Poland's consul general in London; Robert Marin, Romania's consul general in London.
The aim of the conference is to start a process that will build cooperation and collaboration between diplomatic missions, law enforcement and police, faith groups and civil society. Santa Marta Group acts as a catalyst to bring systemic change in addressing the crime of human trafficking by bringing together leaders and building trusting relationships as collaboration between all sectors is required to achieve the eradication of human trafficking. All United Nations member states committed to eradicating human trafficking by 2030 with the agreement of Sustainable Development Goal 8.7 in 2015.
Kevin Hyland, Santa Marta strategic director, said: "Organised criminal gangs make profits of $150bn a year with up to 50 million people trafficked and enslaved. Halfway through the 15-year period of the SDGs we have seen the agenda of human trafficking go backwards. This is why it is urgent for different leadership groups to work together and make this a priority".
Robert Marin, Consul General of Romania in London, said: "Diplomatic missions could act as a bridge between their diaspora, between their communities in the host countries, and the local authorities and faith groups to implement policies and to develop concrete measures so vulnerable people are assisted and protected. One such measure would be to share good practice and develop effective processes across all Consulates to engage and help victims of human trafficking to assist and protect all of our citizens in the UK."