Louisiana First Lady Donna Edwards to join Santa Marta Group Board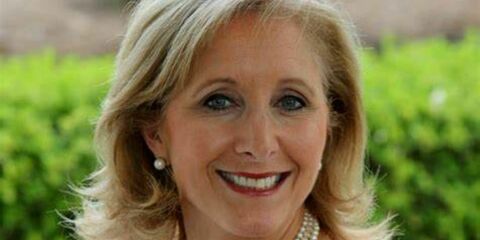 Louisiana First Lady Donna Edwards is to join the Santa Marta Group as a trustee, joining Cardinal Nichols, Yasmin Waljee, Russell Walters, and Bishop William Kenney on the Board.
During a visit to Louisiana to promote the work of Santa Marta Group in combating trafficking as a guest of Governor John Bel Edwards and First Lady Donna Edwards, Cardinal Nichols invited her to become a trustee of the charity and bring her experience in community activism, specifically in anti-trafficking work.
Mrs. Edwards has long been active in her community, supporting various organisations, school, and church groups. In 2022, she established a national coalition in the USA with several other First Ladies for the prevention of sex trafficking, focused on victim identification, addressing causes of the crime, and supporting victims. The national coalition launched a campaign in January 2022: Stop Trafficking LA: Human Trafficking is R.E.A.L. The R.E.A.L. stands for Recognizing the signs, Educating others, Acting immediately, and Listening to victims and survivors.
The coalition's first big event was The R.E.A.L public awareness campaign, which was held in April 2022 during the NCAA Men's Final Four Championship tournament (US College Basketball Finals) in New Orleans. The Final Four attracts around 15 million TV viewers and is one of the most high-profile sporting events in the USA. Later in 2022, Mrs. Edwards also gave one of the keynote speeches at the Santa Marta Group conference in the Vatican, drawing attention to the work she was undertaking locally and the way sporting events could be used to bring public attention to the crime of human trafficking.  
Cardinal Nichols, Santa Marta Group president, said: "I am delighted that First Lady Edwards is joining the Santa Marta Group as a trustee. She will bring her experience, drive, and enthusiasm to the Board as we continue to develop our work to eradicate human trafficking and modern slavery. Partnerships based on trust are at the heart of our work and Donna embodies those values."
First Lady Donna Edwards said: "It's truly an honour to join the Santa Marta Group and work alongside Cardinal Nichols and the other board members who are doing a tremendous job of educating people around the world about the horrors of human trafficking as well as helping the survivors regain control of their lives."
"This is work that my husband and I are passionate about, and I'm incredibly proud of the work he is doing to make our State tough on the perpetrators while also helping to create a safe haven for survivors. Our deep faith is what guides us. This is a big problem, but I believe there is something each of us can do to make a difference and working together, we can end human trafficking."
"Eradicating human trafficking, preventing more suffering and helping survivors is something that Donna and I are committed to achieving," said Governor Edwards. "Thanks to Donna using her platform as well as our state legislators, I am proud to say that our efforts in Louisiana are making a difference, and we are excited to share what we have learned about raising awareness and continuing to work with everyone who shares our desire to end this heinous crime."
To learn more about human trafficking visit the Human Trafficking Prevention Resource Centre of Louisiana at HumanTrafficking.la.gov and to learn more about the statewide public awareness campaign visit StopTraffickingla.com.
For more information about Santa Marta Group go to www.santamartagroup.org