The Role of Diplomacy in Combatting Human Trafficking and Modern Slavery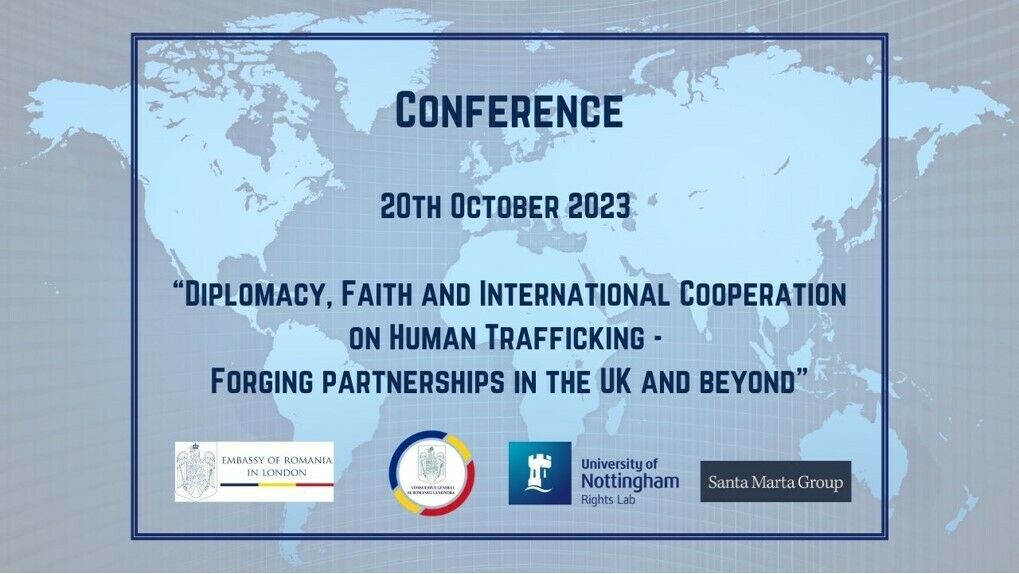 Leading up to the Diplomatic Conference on the 20th of October, Kevin Hyland, Santa Marta Group's Global Strategy Director, and Robert Marin, Head of the Consulate General of Romania in London, discuss the role of diplomacy in combatting human trafficking and their hopes for the upcoming conference.
Mr. Hyland and Mr. Marin talk about how collaboration between diplomatic missions, faith groups, law enforcement and police, and civil society will help these efforts.
The 4 conference aims are to:
1. Establish clear protocols for victim assistance
2. Increase engagement between first responders and diplomatic missions
3. Build bridges with diaspora communities
4. Generate actionable blueprints and ideas for delegates
The ultimate outcomes of the conference are the creation of a global diplomatic network, and transitioning from intent to action to help achieve SDG 8.7.
Full transcription:

I am Alexander Desforges, Communications Director for the Santa Marta Group.
With me today is Robert Marin, Head of Romanian General Consulate in London, and Kevin Hyland, Global Strategy Director for Santa Marta, to talk about the conference for diplomats, faith groups, civil society, law enforcement, and police, on the 20th of October.
Question 1: Robert, why hold this conference, and what can diplomacy offer to anti-human trafficking efforts?
Answer 1: Thank you, Alex. I think there are a couple of questions here.
First of all, is how we translate the strategic framework, international conventions, into concrete action, and secondly, what the role of diplomacy is in this process.
First of all, given that modern slavery and human trafficking has become an increasingly trans-border issue, I think diplomacy is very well-placed along the route from the country of origin to the country of destination to assist in more than one way.
Here we can talk about assessing the issue, developing bilateral frameworks, or amending existing ones, raising awareness within their communities, identifying and assisting victims, and exchanging information and working together with authorities in destination countries to bring perpetrators to justice, but equally to assist the victims.
What is also very important is that diplomatic missions could act as a bridge between their diaspora, between their communities in the host countries and the local authorities, developing the cultural knowledge that is necessary to implement policies and developing concrete measures in these areas.
Question 2: Sustainable development goal 8.7 – we are talking about the sustainable development goals (SDGs) – calls on all to take immediate and effective measures to end modern slavery and human trafficking.
8 years on from the sustainable development goals, what has happened?
Answer 2: Well, it is very saddening and disheartening that halfway through the 15-year period of the SDGs we have seen the agenda of human trafficking go backwards.
It is important that we come together with diplomacy – because it was a diplomatic success that we got the SDGs and target 8.7 – that we come together with diplomacy, civil society, faith groups, and the actors that are required within the state, including police and law enforcement, to actually start to come up with frameworks, as Robert says, to start to deliver SDG 8.7.
Question 3: Robert, why hasn't it been a higher priority for diplomats over the past 8 years, and in fact, why should modern slavery be a diplomatic priority?
Answer 3: Well, I think assessing progress is quite a challenging task, given the competing crises that we have dealt with in the last few years – a pandemic, recovering from the pandemic, climate change, and global conflicts.
However, I think this is all the more a reason, and precisely why we should, prioritize this on the diplomatic agenda, and why diplomacy should continue to maintain a leading role in this area.
Thank you, Robert.
Question 4: What are you hoping to achieve from this conference? What would the ideal outcome be? Kevin.
Answer 4: Well, at the moment, we have a situation where there are about 50 million people who are trafficked across the world, we have $150 billion in profits being made by criminals.
So this is about bringing together the actors – diplomacy and governments, the civil society, the faith groups, and the law enforcement, and other agencies – who can actually start to deliver the means to turn that tide, so that we are reducing the number of victims, we are bringing prevention into communities, and we start bringing justice through stripping assets, and making people accountable for committing these offences in the first place.
Question 5: Robert, what would the ideal outcome from the conference be?
Answer 5: Well, the main aim of the conference is to transition from intent to action. For us, there will be 4 main outcomes that we would like to see after this conference.
The first one is to see if we can establish blueprints and clear protocols for the diplomatic missions to act when they deal with a victim of human trafficking, or when they receive intelligence about such a crime.
Secondly, we are looking to see if we can have defined roles and protocols for local first responders, in case they need to engage with diplomatic missions in destination countries and in case they need to assist victims of foreign nationalities.
Thirdly, we need to explore how diplomacy can assist in building these bridges that I mentioned between local authorities and diaspora communities, faith group organizations, and NGOs in destination countries.
Overall, we are looking to generate actionable blueprints for the delegates to take back home and to reflect on, and see if we can automatically create a global network of diplomacy, a global network of diplomatic missions and other actors that can assist in delivering the SDGs.
Question 6: So, what should the next steps be? Kevin.
Answer 6: Well, this is a process, this is not just a one-off event, and we don't want to be meeting again in 6 months and just talking about nothing happening in between.
So, what we need to do over the coming months is do what Robert says, the 4 points that he said – turning that into an approach, a framework, a policy – so that it is being delivered across the diplomatic world, in partnership with the others who are going to be at this conference, including law enforcement and police agencies, civil society, and faith groups.
And ultimately, as I say throughout, so that we are starting to deliver SDG 8.7 and we can demonstrate that to governments, to all the actors involved here, but then back to the United Nations, and show this as an example of good practice, where we are protecting people, preventing them from being victims, and delivering justice.

Thank you. This is clearly an important process. We look forward to seeing the results of both the conference and subsequent work. Thank you, Kevin. Thank you, Robert.
Thank you, Alex.